Mitel StreamLine
Mitel StreamLine is a new form of Ethernet LAN switch which enables a seamless integration with sites that have legacy wiring!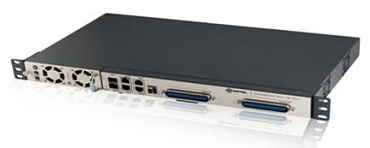 Today's businesses are demanding more personalized service and faster response times, which means employees need tools to be more responsive – unified messaging, single number reachability. IP telephony resolves these challenges, but many organizations face significant infrastructure challenges implementing it.
There are situations where replacing legacy wiring is just not practical, such as a heritage building or an organization working with isolated locations – a warehouse, factory floor, or remote campus building. If legacy wiring is holding back your IP migration, then Mitel® StreamLine offers a cost-effective solution.

Mitel StreamLine overcomes the wiring barrier and facilitates the transition to IP by delivering IP telephony over twisted pair / two-wire legacy infrastructures.
Mitel is home to the only switches globally to deliver Ethernet and power over a single pair of telephony grade wire with 4 times the reach of traditional data switches. Businesses are leveraging their existing, proven reliable voice infrastructure to create a separate network path for voice communications, complementing an existing data network, while optimizing an organization's IT infrastructure for voice and data convergence. It was designed specifically to handle any organization's existing or future real-time voice requirements delivering a robust platform ensuring voice quality of service today and into the future. In addition to IP phones, the StreamLine switch can support any other IEEE device such as IP cameras, speakers or wireless access points.
StreamLine switches come standard with PowerWISE technology. PowerWISE provides the flexibility to use either AC or DC power sources with the same switches. Power sharing, load balancing, hot-swappable power supply, AC/DC options – StreamLines are amongst the lowest power consuming data switches in the industry. This makes an investment in StreamLine switches truly power wise. A highly reliable LAN switch powered by PowerWISE with multiple sources of redundancy allows for the most robust PoE platform in the industry.
Switch Features
8, 24, 48 port configuration options
Both Ethernet and power over a single pair of telephony-grade wire
Over 4 times the reach of traditional data switches (1,200 feet)
2 × 1 gigabit uplink copper and fiber ports
RS232 management port
10×100 Mb management port
10/24/48× 10 Mb downlink ports
Remote management capability