Whether you are looking for a Cloud or On-Premise phone system, ECS has a solution that can be
tailored to meet your business's individual needs. ECS staff will work with you to determine which
solution makes the most sense for you and your team so you can stay connected with each other and
your customers.

Cloud Phone Systems
Cloud phone systems combine your phone system and phone service into a monthly service that is
delivered to you via your internet connection. The only hardware on site with a typical cloud phone
system is your phones. ECS offers cloud phone systems from a variety of different providers.

On-Premise Phone Systems
On-Premise phone systems consist of a physical phone system being installed on site. These systems
support any phone service provider and are not typically dependent on your internet connection.

Virtual Phone Systems
Virtual phone systems are on-premise phone systems that are deployed virtually in VMware or Hyper-V.
You purchase the software up front and, similar to a cloud system, your only hardware is your phones.
Many factors help determine which type of phone system makes the most sense for your business.
Contact us to go over the differences so you can make the right decision.

Mitel 6900 Series Phones
Cordless Handsets and Headsets
Bluetooth Support
Ability to be Used Remotely
Ability to Utilize Wi-Fi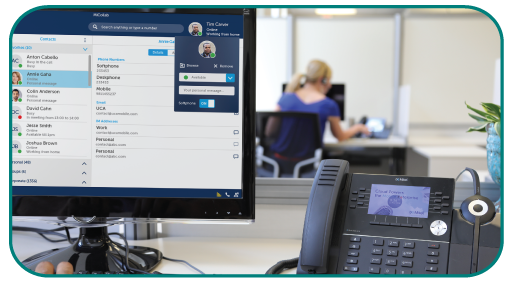 Applications are available to enhance collaboration, including chat, visual voicemail, voicemail to email,
softphones that turn your PC or mobile phone into a phone system extension, and more.