Cordless Guest Room Phones
We offer a wide range of Cordless Guest Room Phones for you to choose from. Our two most popular cordless guest room phone brands are VTech and TeleMatrix. These phones come in a SIP or Analog version and large orders include free custom faceplates. Multiple Colors Available! Don't see the brand you currently use? Contact us to check availability.
VTech
CTM-A2411-BATT Black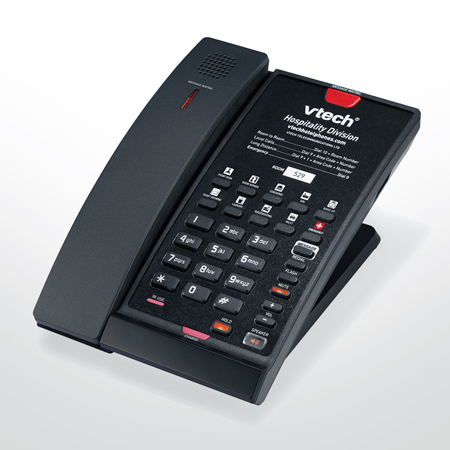 Provide your guests with a completely cordless in-room experience - plus the peace of mind knowing that their phones will work during a power outage. This analog cordless phone features a backup battery option that lets guests stay connected and even make emergency calls should the power go out. Plus, thanks to our patented technology in the backup battery design, it can be used in the handset if the battery dies.
VTech CTM-A2411-BATT features:
0, 1, 3, 5 or 10 removable, programmable speed dials on base
Built-in speakerphone on both base and cordless handset
Backup battery option ensures guests can still use phone during power outages
Antibacterial plastic tested to inhibit 99.9% of bacteria growth
Calls are digitized and encrypted
Large, bright visual message waiting indicator alerts
Fully customizable faceplate for hotel brand and dialing instructions
Hearing aid compatible
CTM-A241SD Black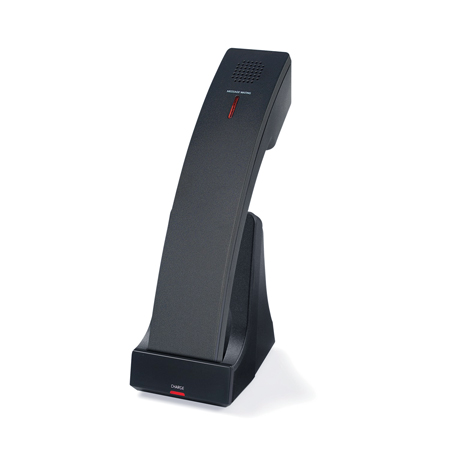 Accessory only requires a CTM-A2411-BATT cordless phone.
Give your guests the freedom to have a hands-free conversation anywhere in their room with this one-line, analog accessory handset. Its cordless design and speakerphone make multitasking easy.
VTech CTM-A241SD features:
Cordless handset speakerphone
Three non-removable, programmable speed dials on handset
Up to 7 hours of talk time with 7 days of standby time
Calls are digitized and encrypted
TeleMatrix
9600MWD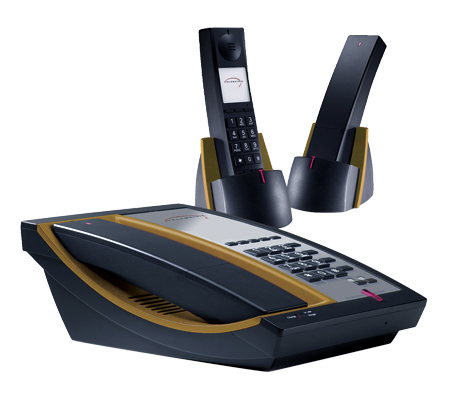 Still the most popular cordless hotel phones in the world, 9600 Series has a proven record of rugged dependability, complemented by a rich feature set, including AutoSync handset pairing, multiple handset kit options, OneTouch® message retrieval, and optional battery backup. Available in single and two-line analog or VoIP cordless configurations.
TeleMatrix 9600MWD features:
Single line, and two line models
5 or 10 guest service keys
Up to 3 additional handsets per base
Exceptional quality speakerphone
1.8 GHz, 1.9 GHz, and 2.4 GHz Frequencies
OneTouchTM voice mail retrieval lightbar technology