Cordless Phones
EnGenius DuraFon 1X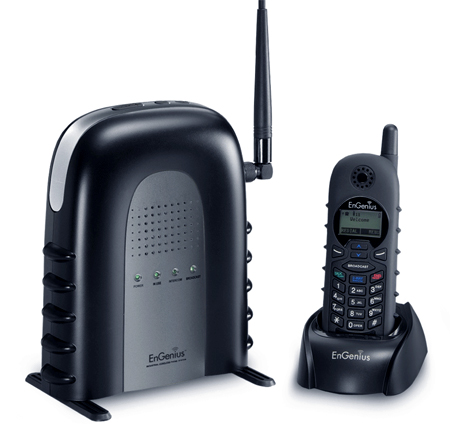 The DuraFon 1X phone system offers a communication solution for real-world applications for small businesses (restaurants and resorts) or for large industrial facilities (farms, manufacturing plants, and multi-level office buildings). This basic system includes one DuraFon 1X receiver/base and one DuraFon 1X handset but the system is scalable with up to (9) to handsets that can be assigned to one DuraFon 1X base/receiver; or expanding the system with the purchase of additional base stations and handsets. DuraFon 1X is an ideal starter phone system for small companies or as a complementary system with an existing PBX or IP-PBX phone system when companies need a longer range communication solution than what DECT or Wi-Fi phones can deliver. Businesses can add to their system, choosing between the full functionality of portable, ruggedized DuraFon 1X handsets or if they just need a durable 2-Way (walkie-talkie) solution for more internal communication.
The DuraFon 1X system's extended range capabilities enable long-range communication for a variety of environments and industrial applications. Workers on ranches and farms can stay connected with one another on over 3,000 acres of land. For nurses, doctors and other healthcare professionals, the DuraFon 1X system can keep everyone connected in buildings with up to 12 floors. For warehouses, convention centers and other venues, DuraFon 1X has an indoor range of up to 250,000 square feet.
EnGenius DuraFon 1X features:
Up to 12 floors in-building penetration; up to 250,000 sq. ft. of facility coverage and up to 3,000 acres of property, open land coverage
Tested, ruggedized handset specifically designed for outdoor work in industrial environments
Each handset has up to 6 hours talk time and up to 50 hours standby time when fully charged
Add up to 9 phone handsets for each base station


EnGenius DuraFon PRO
The DuraFon PRO long range cordless phone system is ideal for organixations with staff members who conduct work on larger properties outside of a conventional office, where employees need to stay in constant contact with a main office, or management team and where WiFi or DECT
phones can't reach.
EnGenius DuraFon PRO features:
Up to 12 Floors, 250,000 Sq. Ft., or 3,000 Acres of Coverage
Multi-Line (4 Ports/Base Unit; 8 Units max.)
Supports up to 90 DuraFon PRO or DuraWalkie Handsets
Works Behind any Analog Port (PBX, VoIP, PSTN, FXS or POTS)
Mitel 5624 WiFi Phone
This wireless handset is designed for use in an office environment and is perfect for users who need to be reachable or able to access their messages from throughout the building.

The MiVoice 5624 Wireless Phone seamlessly blends the wireless needs of the user with a wide range of critical applications like voice messaging and integrates with fixed legacy applications within the organization.

The MiVoice 5624 Wireless Phone is Mitel's first VoWi-Fi (Voice over Wi-Fi) handset operating on 802.11n network; it supports the deployment of voice over the network without degrading the performance of an existing .11n network capacity.
Mitel 5624 WiFi Phone features:
Color LCD display

Rechargeable battery with a standby time of up to 100 hours,

and talk time of

up to 15 hours

12 programmable buttons