IP Phone Accessories
6900 Series Accessories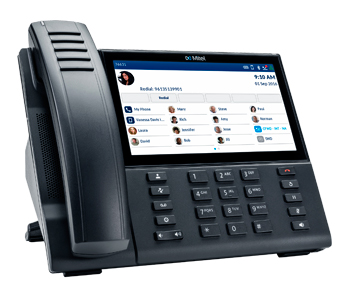 Cordless Voice Optimized Handset
Supported on the 6930 (standard equipment on 6940)
The cordless voice optimized handset allows users to enjoy clearly discernible conversations in a variety of environments without being physically tied to their desk phone. 6930 users can enjoy the freedom of cordless conversations for both IP and MobileLink calls by upgrading to the cordless handset.
End-user installable - 6930 comes standard with cordless handset charging contacts
Answer/hang-up, mute and volume up/down buttons provided
Ringtone played through handset while out of the phone cradle
BT 4.1 Class 2 (10 meter / 30 feet range) wireless interface
WLAN Adapter
Supported on the 6920, 6930, and 6940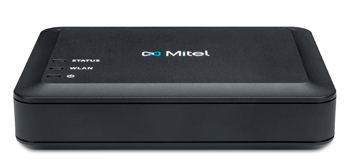 The WLAN Adapter delivers wireless 802.11 a/b/g/n dual band (2.4Ghz / 5Ghz) network connectivity to your 6900, 5300 or 6800 series phone. Wirelessly enable your IP Phone by simply connecting the WLAN Adapter to the Phone's network port via the supplied Ethernet cable and then configure the adapter to connect to your home office or enterprise wireless network. The WLAN Adapter supplies POE power to the connected phone for a clean and simple single wall adapter solution. The WLAN Adapter supports the connection of a PC to the PC port of the connected phone with true 2×2 MIMO (300Mb/s) throughput. The WLAN Adapter delivers enterprise-grade dual antenna connectivity and up to 802.1x security plus comes with a remote management application that allows administrators to remotely manage adapters deployed within their user community.
802.11a/b/g/n wireless (dual band 2.4 and 5 GHz)
WPA/WPA2 personal enterprise with 802.1x authentication
Two internal antennae
Max link rate of MSC0 to MSC15 (300Mb/s)
Additional software security: ethernet MAC address intrusion alert
Remote Management and updates via remote management application
Expansion Modules
Supported on the 6920, 6930, and 6940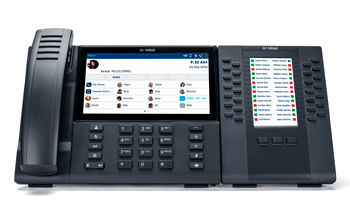 The Mitel M695 can easily add 28 buttons to the existing Personal keys on a 6920, 6930 or 6940, enabling the MiVoice 6900 Series IP phones to become robust productivity enhancing desktop communication tools for users who need to monitor a large number of lines or Busy Lamp Fields. The M695 attaches easily to the 6900's sidecar expansion port which provides power to the attached PKM for a clutter-free desktop. Up to three modules can be daisy-chained together to provide up to 84 programmable keys that can be programmed with all of the same feature types available on the Personal keys of the base phone.
Supported on the 6920, 6930 and 6940
28 programmable keys
4.3" 480×272 pixel color backlit LCD display
Additional M695 PKM's can be daisy-chained for a combined total of up to 3 modules
All attached PKM's powered by the phone – no separate power adapter required