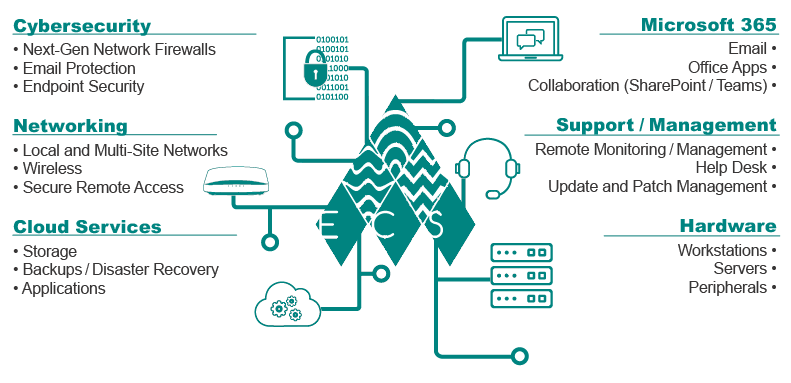 ECS's Managed IT Services Solution includes a variety of products and services that allow our customers to focus on their business, and not have to worry about managing their technology.
ECS can provide you with IT support to keep your company secure and efficient, while leveraging the latest technology. ECS can support all of your IT needs, including the products and services below:
CYBERSECURITY - Cybersecurity is the practice of defending computers, servers, mobile devices, electronic systems, networks, and data from malicious attacks. ECS takes a layered approach to achieving this for your business. We utilize an array of tools and techniques to prescribe the correct levels of security for your needs.
HELP DESK SUPPORT - Our technicians are here to assist your end users with desktop or application related problems.
NETWORKING - Routers, data switches, and wireless access points are the "backbone" of your network. We can monitor your data equipment to ensure each of these important components is up and running when you need it.
CLOUD IT - ECS can provide the products and support to get your business up and functioning in a fully-hosted cloud environment. This includes Microsoft 365, Outlook Email, SharePoint/Teams, and everything in between.
REMOTE MONITORING & MANAGEMENT - Provide your equipment with tested and approved application patching (updates). ECS offers proactive antivirus, anti-malware & anti-ransomware management, along with configurable executive reporting to keep you informed about the performance of your infrastructure.
BACKUP & DISASTER RECOVERY - File-level and email-level restores available for on-premise systems and cloud systems including Office 365. We can deliver full cloud replication and near instant on-site recovery by means of a virtual appliance in the event of a disaster.
HARDWARE SERVICES - Infrastructure components such as firewalls, switches and wireless access points can be provided as a service, so you no longer have to worry about upfront costs, support renewals, and licensing requirements.

If you would like to set up a consultation to discuss your IT needs and the solutions we could provide, fill out the contact form below and an ECS representative will in touch.

---