Mitel MiVoice Office 250 (up to 250 users)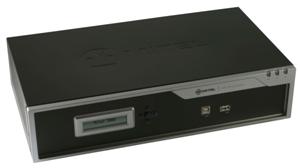 MiVoice Office 250 is the ideal platform for small and medium businesses interested in the latest technology and applications but not yet ready to go with a pure IP solution. MiVoice Office 250 natively provides both digital and IP capabilities, enabling you to adapt and grow the system at your own pace. In addition, you will be able to blend your voice system with the data network, creating an efficient, cost-effective communications environment. The proposed Mitel platform delivers enterprise-caliber features and capabilities yet is simple to use and easy to install and manage. For this reason, it will not place extra demand on your IT department's resources.
Able to support 250 users in multiple sites, its feature-rich network capabilities effectively connect geographically dispersed employees and locations, whether linking offices and applications together over a data network or deploying digital and IP phones to on-site employees. You will gain a complete suite of advanced business applications out of the box including hot desking, Meet-Me Conferencing, ACD and enhanced mobility with Dynamic Extension Express (single-number reach/twinning) and teleworking. While the MiVoice Office 250 will integrate with your familiar industry-specific applications, it also supports the same award-winning Mitel unified communications (UC) applications portfolio used by the Mitel enterprise platform, MiVoice Business.
Unified messaging capabilities include e-mail synchronization, MP3 and WAV attachments, voice mail, message notification and retrieval, automated attendant, call routing announcements (CRA), Record-a-Call, and optional BlackBerry message formatting (BES). MiVoice Office 250 can accommodate up to 32 embedded voice mail ports and over 80 hours of voicemail storage (upgradable to 300 hours). Microsoft Exchange and IBM Lotus Notes, as well as hosted e-mail services including Gmail and Office 365, are all supported.
The embedded teleworking feature requires no server, no licensing and no additional cost. Included in the base MiVoice Office 250 solution, this feature provides remote workers with seamless, secure access to the communication capabilities of head office quickly and easily using a MiVoice IP Phone.
For overall administration, the MiVoice Office 250's inherent PC-based System Administration and Diagnostics tool provide technicians with a single access point to rich task-oriented diagnostics and essential administration tools. An easy-to-use interface into the inner workings of the MiVoice Office 250 platform, it can be used to install, maintain and troubleshoot the system.
The Meet-Me Conferencing feature allows internal and external users to dial into a conference instead of being manually added by an internal user. It can even consist entirely of outside parties; an internal system user does not have to be present. In total, the 5000 CP supports up to 20 participants per conference and 40 simultaneous conference resources. Participants can initiate or join a Meet-Me Conference by dialing the Conference Assistant and entering the valid access code.
The MiVoice Office 250 Dynamic Extension Express (DEE) mobility features enable mobile users to be reached with a single business number through any device at any location. Through mobile twinning, up to 10 of the user's devices ring simultaneously. The user picks up whichever device is being used (desk, cellular, home IP, home, Mitel UC Advanced softphone) or, if the user is unable to answer, the call will go to the office voice mailbox.