Solutions For Small/Medium Business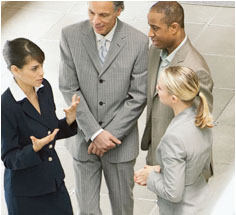 Is the system you are considering buying:
Reliable
Capable of working seamlessly with your business locations
Easy to manage
Flexible: supports how people work in your business
Does the system you are considering buying:
Integrate and interwork with applications used in your business
Deliver a lowest total cost of ownership
Support strategies for reducing your carbon footprint
Is a long-term service agreement available to enable you to achieve even greater operational efficiency?
"I would like to commend ECS for their attention to customer service. It is reassuring to know that there are still companies that put their customers first."
- Joseph McCormick Construction, Erie, PA
What To Consider When Shopping For a New Communications Solution
Making a buying decision regarding a communications solution for your business is greatly simplified when you can do two things:
Clearly detail the needs of your business (including some forward-looking considerations)
Determine the key decision-making criteria based on the type of solution you are pursuing
Then determine how different vendor solutions measure up according to your needs (do they satisfy them?) and decision-making criteria (how do they do it best?).
Mitel is the leader in the U.S. SMB market with the best IP products on the market. Our solutions are reliable, flexible, and easy to manage. They work seamlessly across multiple locations and integrate and inter-work with applications businesses use to improve teamwork and interactions with customers. Mitel's service solution portfolio strategically connects your financial and application objectives in a long-term service and support relationship giving you end-to-end communication services and solutions from a single vendor.